Your Trenchless Sewer Repair Professionals in Arden Hills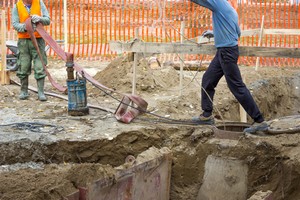 When sewer line issues affect your Arden Hills home, you'll want to get your sewer lines repaired in a quick and dependable manner. For the quickest and most dependable repairs, look to the pros at Matt's Drain & Sewer Service. Our sewer repair company can be onsite and ready to get your sewer setup working properly once more with any of the great services we proudly offer:
Drain services
Trenchless Pipelining
Hydro Jetting
And more!
Call Us to Handle Your Drain Cleaning Needs
Not all sewer line issues require work that's as involved as a full-blown repair or replacement. Oftentimes, a backed-up sewer line is due to a clog, which can develop because of the presence of great, debris, or other things in your sewer lines. While this problem is certainly far simpler than a repair, it still may be out of your depth, depending on the magnitude of the stoppage.
If you find yourself wrestling with a clogged line that seems to be a bridge too far for your capabilities, you need to call our Arden Hills team today for our drain cleaning work. We have the expertise and the resources to quickly and effectively remove even the most stubborn clogs from your drain lines, allowing you to fully utilize your plumbing setup once more.
Great Benefits You'll Enjoy with a Trenchless Sewer Line Repair
Over time, your sewer lines are likely to experience breakages that leave you with limited use of your entire plumbing setup. When that problem develops, you'll want to have things repaired in a timely manner. For that purpose, look to our Arden Hills team for a trenchless sewer repair—a service which offers a number of compelling benefits:
The work can be done more quickly than a traditional sewer line repair
Your yard won't need to be dug up, so your plant life will remain safe
This kind of repair is quick and low-cost
Enjoy Our Top-Rated Hydro Jetting Services
Are you dealing with a sewer line clog that seems to be so stubborn that you fear you may have to invest in a costly and time-consuming repair? If so, you don't need to stress yourself. Instead, you need to call our Arden Hills pros for a hydro jetting. This quick yet effective sewer-line-cleaning method will remove the most stubborn of clogs in a quick and low-cost manner.
If you are looking for a professional Arden Hills sewer repair company for trenchless pipe repairs then please call 651-464-6937 or complete our online request form.