Expert Sewer Repairs & Replacement in the Minneapolis/St. Paul Area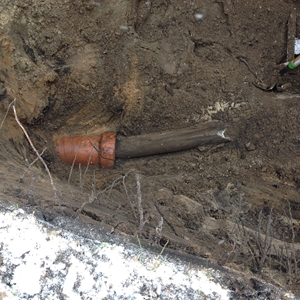 One of the most important portions of any property is the sewer system. Your sewer allows you to have an effective and efficient plumbing system at your home or business. Whenever you conduct work on your sewer drains and lines, it is essential that you trust the job with a professional. At Matt's Plumbing Solutions LLC, our Minneapolis and St. Paul sewer repair and replacement contractors are here to help you with this extensive and important effort.
The professionals at our trenchless pipe repair company are proud to be able to handle the most difficult and intensive plumbing and sewer related tasks. We have the skill and equipment necessary to design and install a new sewer system for any type of property, residential or commercial (with the exception of septic tanks). The one constant in all of our work is our goal to achieve our customer's complete and total satisfaction.
If you need to repair or replace a portion of your sewer system in Minneapolis or St. Paul, call Matt's Plumbing Solutions LLC today. Our polite staff would be happy to take your call and to assist you in any ways that we can. We can schedule your appointment today.
Sewer Replacement Services in Minneapolis and St. Paul
At some point in time, every sewer system needs to be replaced. If your lines, pipes, and drains are old, corroded, damaged, or leaky, you should consider replacing them. When you do so, our highly skilled contractors are the best team for the job.
Whether we are replacing a single sewer line for a residential property or an entire sewer system for an industrial property, our Minneapolis/St. Paul sewer repairs team will bring the same dedication to excellence to the project. We will work our hardest to provide you with the highest quality services, striving to add long term value to your home or business.
Emergency Sewer Repair Services in Minneapolis and Saint Paul
One of the most dreaded things that can occur to your property is a major sewer malfunction. At your home, a sewer back up can cause a great amount of distress. At your commercial property, any sewer related issue can result in your business being closed until the problem is resolved.
At Matt's Plumbing Solutions LLC, our Minneapolis and St. Paul trenchless pipe repair professionals are on call to provide for all your emergency sewer repair and replacement needs. At the first sign of a problem, call us immediately. We will respond to your call and be on site as soon as possible.
Our professionals will work tirelessly until your sewer system is restored to full, efficient, and reliable operation. We will fix the main issue as well as any other underlying problems. Afterwards, you can rest assured knowing that your sewer system is in the best condition.
If you need sewer repairs in the Minneapolis/St. Paul area, please call 651-464-6937 or complete our online request form.
Recent Articles