Quality Trenchless Sewer Services in Circle Pines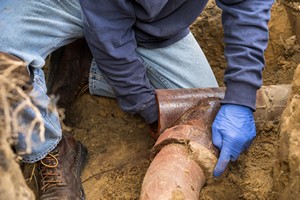 Sewer line issues can prevent you from using the plumbing setup in your Circle Pines home, and when those issues develop, you'll want to have them handled as quickly as possible. For the quickest and most dependable sewer line work, look to the pros at Matt's Drain & Sewer Service. Our sewer repair company can get your plumbing working once more thanks to the line of great services we offer:
Drain services
Trenchless Pipelining
Hydro Jetting
And more!
Drain Services for Your Home and Business
Few things can present the magnitude of problems that a clogged sewer line can. For one thing, a line clog can render you unable to use many of your plumbing installations—or even ANY of them. For another thing, this problem can cause sewage to back up into your home, creating an unsafe living environment for you and your loved ones.
While you can't always prevent clogs from developing within your Circle Pines home's sewer lines, you can get them removed promptly. To do that, simply look to us for our drain services. No matter the type or size of the clog you're dealing with, you can count on us to get things moving again in no time at all.
Enjoy the Great Benefits of Trenchless Sewer Repairs Today
Unfortunately, many sewer line issues are due to a much bigger problem: damage somewhere in the line. Fortunately, you don't need to subject yourself to the headache of an involved repair. Instead, you can call our Circle Pines team today for our trenchless sewer repair work. This work will repair most damages affecting your sewer lines while allowing you to enjoy a number of great benefits:
The work can be done more quickly than a traditional sewer line repair
Your yard won't need to be dug up, so your plant life will remain safe
This kind of repair is quick and low-cost
Your Hydro Jetting Pros in Circle Pines
Some clogs may prove to be too much for our basic drain cleaning services—but that doesn't mean they're too much for us! After all, we also offer heavy-duty hydro jetting services that will knock away even the most stubborn clogs, allowing your Circle Pines home's plumbing to work once more while preventing the need for costly repairs.
If you are looking for a professional Circle Pines sewer repair company for trenchless pipe repairs then please call 651-464-6937 or complete our online request form.