St. Paul Trenchless Pipe Repairs: The Best Way to Fix Sewer Systems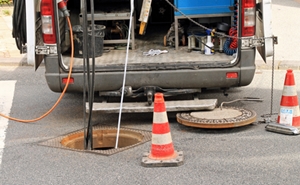 One of the most dreaded things any home or business has to deal with is a leaking or backed up sewer line. The effects and damage to your property can be overwhelming. The prospect of fixing the problem is even more so. The major reason that these issues are so troubling is that they are hard to identify. One, the leak or backup can be caused by a blockage in the line, a crack in the pipe, or by general degradation. Depending on what is causing the sewer issue and the location of the damage, the solution will be different. When St. Paul homeowners are confronted with sewer problems, they contact Matt's Plumbing Solutions for help. Our trenchless pipe repair company specializes in fixing major sewer related issues. We utilize the most advanced method to repair and replace damaged sewer lines: trenchless pipe repairs in St. Paul.
The Dig and Replace Method for Sewer Repairs
Before the development of trenchless pipe lining in St. Paul, sewer problems were resolved by excavating the problem pipe. As a result, the area above the line needed to be dug out until the entire problem segment was uncovered. Only then could the sewer line be replaced.
This method is very imprecise, labor intensive, and costly. If the entire sewer system of the property needed to be replaced, the cost of repairs could be prohibitive. Even worse, the damage to the landscaping and improved areas of the property would be extensive.
Trenchless Pipe Repair as the Solution
When you hire Matt's Plumbing Solutions, our St. Paul trenchless pipe repairs team will utilize the trenchless pipe lining method to resolve your sewer problem. You will be amazed with the results.
First thing, our highly skilled professionals will inspect the entire sewer line via video camera in order to identify the precise problem. If it is only a clog, we can hydro jet the line, restoring your sewer system to full operation.
If there is a leak or your pipes need to be replaced, we can reline the interior off your sewer lines without excavating them. In this way, we conduct the repairs in the least impactful manner. Better yet, our trenchless pipe repairs will take less time and will be less expensive.
For these reasons, you need not worry if you are dealing with sewer line problems. Our St. Paul trenchless pipe repair company is always on call to provide for your emergency needs. We can handle the entire project for you. Afterwards, your sewer system will be in the best possible condition.
If you are looking for an expert for trenchless pipe repairs in St. Paul, MN, then please call 651-464-6937 or complete our online request form.